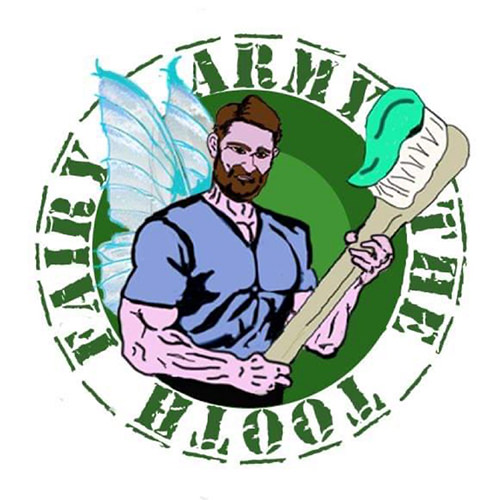 THE TOOTH FAIRY ARMY
The HALO Dental Network is powered by The Tooth Fairy Army (TFA), a national coalition of elite Dentists, Orthodontists, Denturists, Prosthodontists, Oral surgeons, Endodontists, Periodontists and Cosmetic dentists. These dental professionals and their dedicated teams agree to provide one free dental service to a HALO Smile recipient each year.
Led by General Dr. Brady Smith, DDS, these HALO Heroes provide essential dental procedures, including:
Dental implants
Full dental implants
Veneers
Crowns
Fillings
Root canals
Dental restoration
Braces
Teeth whitening
Bridges
Braces
and More
The Tooth Fairy Army:
Elevating the Dental Industry
A word from General Dr. Brady Smith, DDS
As dental professionals, we know we have a great capacity to unlock new lives for people feeling lost, isolated, depressed or humiliated due to their dental struggles. HALO affords dentists the opportunity to fix such dental issues, as well as highlighting aspects of the profession that often go unnoticed: the profound effect that a proper smile and oral health have on mental, emotional and general health. In a profession that is often ridiculed – mostly in good fun – for being "fake doctors," HALO presents an aspect of dentistry that isn't as widely known, considered or valued: dentists have the power to change smiles, lives and the world. 
Imagine the impact 1,000 free, life-changing cases per year will do for our profession as a whole. The charitable services performed by HALO's Tooth Fairy Army will elevate and reframe the public's opinion of dentists, highlighting us as helpers who make a difference on a personal and global level.
Joining The Tooth Fairy Army is your way to contribute to this grand and ambitious goal. Our collective efforts can make a difference – for you personally, for your community and for the dental industry as a whole. I am genuinely grateful for your interest and look forward to getting to know you personally. I hope that joining HALO's meaningful service gives you a purpose that carries you through you career and life.
– Dr. Brady Smith, DDS
Founder & President of HALO
The Benefits of Joining The Tooth Fairy Army
The benefits of joining HALO's Tooth Fairy Army extend beyond the philanthropic and professional. New TFA members also receive:
One complete Biohorizons Implant Surgical Kit ($3,500 value)
12 free Biohorizons Implants ($2,500 value)
One three-minute video highlighting your case and telling your patient's story ($3,000 value)
Future discounts on Biohorizons implants and other supplies
Future discounts on Implant Pathways, one of the premiere dental implant CE courses offered in the U.S.
Promotion via HALO social media platforms
HALO and Tooth Fairy Army swag, including t-shirts, stickers and discounts at your local tattoo parlor
Six pack abs (results may vary)